Introduction
Tohoku University Graduate School of Medicine (TU) and Research Institute for Tropical Medicine (RITM) started the project entitled "Comprehensive Etiological and Epidemiological Study on Acute Respiratory Infections in Children: Providing Evidence for the Prevention and Control of Childhood Pneumonia, Philippines" on April 2011. SATREPS (Science and Technology Research Partnership for Sustainable Development), a collaboration between two Japanese government agencies: the Japan Science and Technology Agency (JST) and the Japan International Cooperation Agency (JICA), is a program that promotes international joint research targeting global issues, involving partnerships between researchers in Japan and researchers in developing countries. In collaboration with RITM, TU has started to implement the project to establish the effective interventions based on the risk factors found in the hospitals and the communities to reduce the impact of the childhood pneumonia, particularly targeting the severe pneumonia.

Background
"Reduce by two thirds, between 1990 and 2015, the under-five mortality rate" is one of the Millennium Development Goals. Nine millions of the under-five, however, still die annually. Pneumonia is one of the leading causes of the deaths worldwide and the Philippines is no exception. The strategy against pneumonia by WHO/UNICEF is based on the data from 20 years ago, and the basic approach is "early diagnosis and treating severe case with antibiotics" based on clinical symptoms without laboratory confirmations. Recent data shows that viruses also play an important role as causative agents for pneumonia. Drug resistance is also one of the global public health issues. Now, the evidence based strategy should come into play to tackle the severe respiratory infections in children.
We established 4 project sites including 4 main hospitals and one catchment community in Leyte Province, Puerto Princesa City, Muntinlupa City and Biliran Province. Based on this research network, we will implement the comprehensive research activity against childhood pneumonia to achieve our goal.

Project summary
Project name: Comprehensive Etiological and Epidemiological Study on Acute Respiratory Infection in Children
Chief Advisor: Hitoshi Oshitani (MD, PhD, MPH)
Term: June 2010 - March 2017
Counterpart country: the Philippines
Chief counterpart institute: Research Institute for Tropical Medicne (RITM)

Components
| Component | Type | Objectives |
| --- | --- | --- |
| 1 | Etiology study | To define the etiology (causative pathogens) and outcome of children with pneumonia detected at community level to hospital level |
| 2 | Disease burden study | To calculate the accurate Incidence rate of the childhood pneumonia |
| 3 | Risk factors analysis | To identify the risk factors for pneumoina in the community and hospitals based on the data from component 1 and 2 |
| 4 | Interventions study | To conduct the intervention study for recuction of impact of childhood pneumonia based on the data from component 3 |
| 5 | Feedback and advocacy | To evaluate the interventions to feedback to relevant national and international organizations (DOH, WHO, UNICEF etc) |
Sentinel hospitals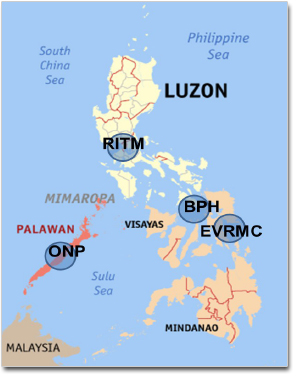 RITM, Research Institute for Tropical Medicine; ONP, Ospital ng Palawan; BPH, Biliran Provincial Hospital; EVRMC, Eastern Visayas Regional Medical Center
Management team
Hitoshi Oshitani (Tohoku University); Socorro Lupisan (RITM)

Co-managers
Mayuko Saito; Raita Tamaki; Veronica Tallo; Amado Tandoc III; Lydia Sombrero; Edelwisa Mercado; Melisa Mondoy

Administrative support
Ryosuke Kojima (JICA)